CAD $ 1,640.00
Brand : Black Haze Workshop
Part # : GTB2260VK-VC
Price : CAD $ 1,640.00

Shipping : CAD $ 32.00
APPROXIMATE SHIPPING PRICE
Login / Signup for an accurate price.

Categories : Air Intake - Turbo Turbo
Black Haze Workshop
Diesel Craftmanship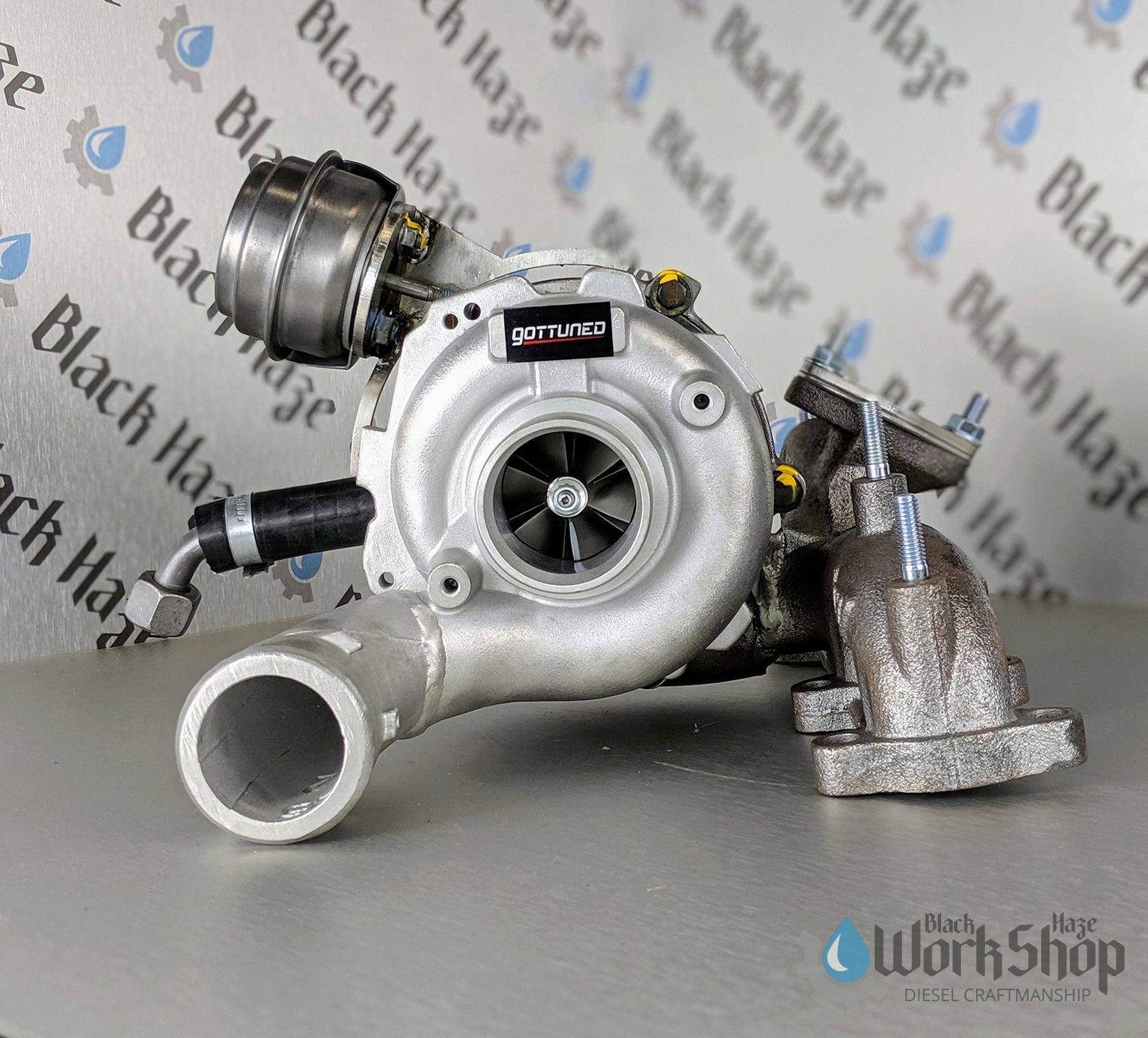 Garrett GTB2260VK Vacuum Converted
Garrett GTB2260VK
-Support 35psi on a 1.9/2.0 TDI Engine.
-Good for 260-280hp with the stock compressor wheel.
-Good for 280-320hp with the 62mm billet compressor wheel option.
-Full boost around 2800rpm, it can be sooner with appropriate fueling and tuning. We have seen full boost at 2200rpm on our setup.
-Billet compressor wheel option allow a quicker spool (full boost at 200-400rpm sooner)
-Vacuum conversion makes it ready to use on a TDI
Consider other turbo option
We offer a lot of turbo option for TDI engine. From journal bearing to ball-bearing. From wastegated to the more up to date VNT mechanism. From stock compressor wheel to the more aggressive billet compressor wheel.
If you are not sure what size of the turbo to use, please get in touch. We will help you chose the right turbo for your application/expectation.
In most case, our GTB1760 is the best choice for the ALH and BEW. And we offer it in a bolt-on version.
DIY
You can find most of the parts you need to make your own turbo setup. From flanges to elbows, if you don't find what you need please contact us.
Most of the parts are in Stainless Steel. Because quality is very important to us. This is why we do not offer compromise product.
Call it new, Call it reman.
This turbo is made from new parts, except for the hot and cold housing. The housings are reman.
All other parts are new. CHRA, wheels, shaft, seals and bearing. Most of reman turbo retain the stock CHRA, that can have 300 000km or more.
Our turbos are balanced on a VSR turbo balancer. For some turbos, it can go up to 300 000rpm in dynamic balancing.
The vacuum conversion is set on a VNT analyzer bench. Wich is used only for that type of adjustment.
The procedure allows us to offer an awesome quality turbo at a reasonable price.
Plus, it is good for the environment, as we re-use some parts of an old turbo instead of throwing it away. Call it performance recuperation!
Please note that this is a special order. They are made in Europe to the custom spec of the customer.
Allow 2-3 weeks before delivery